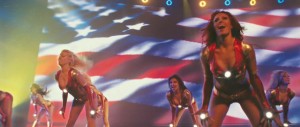 A new study by the Annenberg School for Communication and Journalism at the University of Southern California (USC) found that when it comes to movies, women are seen rather than heard.
The study analyzed 100 of 2008's top-grossing videos and found that men had 67% of the speaking roles, while women had 33%. They also found that women's roles were often sexualized. Female characters wore provocative clothing 26% of the time, while men wore it 5% of the time; and, they were partially nude during 24% of the films, while men were only portrayed this way during 8%.

Female teenage characters were sexualized to a greater extent. Provocative clothing on female teens appeared 40% of the time, as opposed to 21 to 39 year old wearing provocative clothing 32% of the time. Female teens also were partially naked during 30%.
Stacy Smith is a communication professor of entertainment at USC and lead researcher of this study. She stated: "the data speaks to an overemphasis on beauty, thinness and sexualization of women at younger and younger ages."
The research also found that 29% of the time teen girls were referred to as attractive by another character — compared to this occurring 18% of the time for women 21 to 39 and 8% for those 40 to 64 years of age.
The project administrator, Marc Choueiti, believes this tells young girls that they are "eye candy," and may have an effect on body image.
They analyzed 4,370 speaking roles for this study. Some of the movies included Twilight, Iron Man, and The Dark Night.
Women represent roughly half of the U.S. population and buy roughly half of the movie tickets, but they still represent only a third of the speaking roles in film," Smith says. "Females are missing in action when it comes to speaking roles."