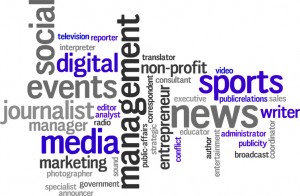 The purpose of this page is to aggregate a list of potential jobs and careers most commonly pursued by people with a communication major or degree. You will notice some jobs are highly relevant to the communication field, while others may be a surprise to you. Majoring in communications gives a lot of flexibility with post academic career opportunities which is quite evident just by looking at the list of jobs below.
Each jobs article contains a job description, what they do, what it takes to become one, requirements, and salary. This list will continue to grow as we publish more content for more jobs in the communications field. If you would like to see specific jobs/careers added to this list feel free to leave a comment.
Business:
Admissions Counselor
Association Administrator
Benefits Administrator
Buyer
Communication Analyst
Communication Services
Communication Trainer
Communications Manager
Corporate Relations Officer
Customer Service Representative
Director Corporate Communications
Director Media Relations
Director of Training and Development
Employee Communication and Training
Employee Information
Events Planner
Executive Manager
External Communications Manager
Field Publicity Consultant
Flight Attendant
Government Affairs Director
Government Relations Counselor
Group Supervisor
Hospitality Manager
Hotel Manager
Human Resources Manager
Industrial and Labor Relations
Information Department
Internal Communication Manager
Investor Relations Manager
Labor Relations Specialist
Management
Management-Employee Communication
Marketing Communication
Media Relations Specialist
Mediator
Negotiator
Newsletter Editor
Personnel manager
Personnel Recruiter
Press Information Officer
Press Relations Manager
Public Affairs Officer
Public Information Officer
Public Relations Supervisor
Sales Representative
Special Projects
Speech Writer
Staff Consultant
Trainer
Training and Communication Administrator
Training and Development Specialist
Upward Communication
Vice-president Corporate and Community Relations
Vice-president Human Resources
Advertising/ Marketing/ Sales:
Account Executive
Account Manager
Advertising Copywriter
Advertising Director
Advertising Manager
Advertising/Marketing Specialist
Assistant Account Representative/Executive
Audience Analyst
Brand/Division Manager
Buyer
Campaign Manager
Communication Technology
Copy Writer
Corporate Public Affairs Specialist
Creative Director
Customer Sales Representative
Development Officer
Financial Industry (Stocks and Bonds)
Fund raiser
Health Professions
Insurance
Lobbyist
Manufacturer's Representative
Market Analyst
Marketing Specialist
Marketing Vice-President
Media Analyst
Media Buyer
Media Planner
Media Sales Representative
Membership Recruiter
News Writer
Presenter
Press Agent
Promotions Manager
Public Opinion Researcher
Public Researcher
Publicity Manager
Real Estate
Retail
Sales Manager
Sales Representative
Vice-President Sales
Communication Education:
Alumni Officer
Audiovisual Specialist
College or University Professor
Director of College News
Drama Coach
Drama Director
Education Researcher
Educational Administrator
Educational Fund-raiser
Educational Tester
Forensics/Debate Coach
High School Speech Teacher
Language Arts Coordinator
School Counselor
Speech Communication Department Chairperson
Speech Communication Department Chairperson
Media/Radio/Television/Broadcasting:
Account Executive
Actor/Actress
Advertising Sales Coordinator
Announcer
Art Director
Assistant Art Director
Assistant Producer
Audiovisual
Booking Agent
Broadcasting Station Manager
Business Manager
Cable Television Project Director
Camera Person
Casting Director
Comedy Writer
Community Relation Director
Coordinator, Corporate Internal Television
Director
Director of Broadcasting
Disc Jockey
Film Director
Film Editor
Film Producer
Film Tape Librarian
Floor Director
Floor Manager
Graphic and Audiovisual
Impersonator
Market Researcher
Media Buyer
Motion Picture Manager
News Anchor
News and Relation Manager
News Director
News Writer
On-Air Talent
Photo Services Manager
Photo-Audio-Visual Services
Photographer
Photojournalist
Playwright
Producer
Public Relations Manager
Radio and Television Announcer
Radio and Television Publicity
Researcher
Supervisor, Coordinator, Director, or Project Manager:
Talent Scout
Talk Show Host
Technical Director
Television Specialist
Traffic/ Continuity Specialist
Transmitter Engineer
Unit Manager
Writer
Journalism (Print or Electronic):
Acquisitions Editor
Advertising Copywriter
Assistant Editor
Associate Editor
Associate Publisher
Audiovisual Writer
Author
Book Designer
Copy Editor
Copy Writer
Editor
Editorial Assistant
Editorial Director
Employee Publications Editor
General News Manager
Greeting Card Writer
Industrial Editor
Manager of Corporate Information
Media Interviewer
Medical Editor
News Manager
News Service Researcher
News Supervisor
Newscaster
Product Promotion Writer
Production Assistant
Production Editor
Publications Advisor
Publications Editor
Publisher
Reporter
Sales Promotion Writer
Script Writer
Senior Editor
Specifications Writer
Sports Information Director
Sportscaster
Supervisor of Staff Publications and Services
Supervisory Editor
Talk Show Host
Technical Writer
Technical Writer
Writer-Editor
Public Relations:
Account Executive
Advertising Manager
Audience Analyst
Corporate Public Affairs
Creative Director
Development Officer
Lobbyist
Marketing Specialist
Media Analyst
Media Planner
News Writer
Public Opinion Researcher
Publicity Manager
Sales Manager
Special Events Coordinator
Specialist
Telemarketing Specialist
Theatre/Performing Arts:
Arts Administrator
Casting Director
Costume Designer
Director
Lighting Designer
Lighting Theatre Critic
Makeup Artist
Model
Movie Critic
Movie Theater Manager
Narrator
Performing Artist
Performing Arts Educator
Producer
Scenic Designer
Script Writer
Stage Manager
Stunt Coordinator
Theatre Critic
Theatre Professor
Government/Politics:
Campaign Director
Communication Trainer
Director of Corporate Communication
Elected Official
Information Officer
Legislative Assistant
Legislative Liaison
Lobbyist
Negotiator
Political Aide
Press secretary
Program Coordinator
Public Information Office Writer
Research Specialist
Speech Writer
High Technology Industries:
Audio & Visual Computer Display Specialist
Circuit Television Producer/Director
Cognition Researcher
HTML Designer and Programmer
Language Specialist
Multimedia Designer/Producer
Performance Assessor
Speech Synthesizer
Systems Analyst
Technical Copywriter
Trainer
Trainer for Communication Tech.
Communication and Health Care:
Activities Director
Advertising Agencies
Clinic Public Relations Director
Communications Manager for Federal Health Agencies
Drug Rehabilitationist
Government Positions Related to Public Health
Health Communication Analyst
Health Educator
Health Facility Fund Raiser
Health Personnel Educator
Heath Care Counselor
HMO's
Hospice Manager
Hospital Director of Communication
Marketing Director
Medical Center Publications Editor
Medical Grants Writer
Medical Training Supervisor
Non-Profit Health Organizations
Pharmaceutical Companies
Research Analyst
School Health Care Administrator
International Relations and Negotiations:
Corporate Representative
Diplomat
Foreign Correspondent
Foreign Relations Officer
Host/Hostess for Foreign Dignitaries
International Business
International on-air media talent
On-Air International Broadcasting
Student Tour Coordinator
Translator
Law:
Corporate Lawyer
District Attorney
Legal Educator
Legal Reporter
Legal Researcher
Legal Secretary
Mediation & Negotiation Specialist
Paralegal Researcher
Private Practice Lawyer
Public Defender
Social and Human Services:
Advisors
Attraction Manager
Case Worker
College Counselor
Community Action Director
Community Affairs Liaison
Consumer Advocate
Consumer Affairs Specialist
Corporate Trainer
Counselor
Customer Relations Representative
Foreign Relations Officer
Fundraiser
Human Resources Associate
Human Rights Office
Information Specialist
Investigator
Lawyer
Lobbyist
Mediator
Mental Counselor
Minister
Museum Director
Park Service Public Relations Specialist
Philanthropic Representative
Professional, Religious, & Charitable Organizations
Public Administrator
Public Affairs Director
Public Relations Specialist
Recreation Supervisor
Recruiter
Religious Leader
Researcher
Sales Representative
Sales-Retail Manager
Service Administrator
Social Worker
Speech Instructor
Student Activities Director
Tour Guide
Youth Worker
Labor Relations:
Arbitrator
Chief Negotiator
Contract Administrator
Labor Relations Specialist
Mediator
Union Representative
Education:
Admissions Counselor
Associate Director/Assistant
College Recruiter
Development Officer
Director/Dean etc. of Administrative Offices
High School Teacher
Project Director
Researcher
Resident Director
School Administrator
Vice-president University Relations
Researcher:
Assistant Director of Research
Corporate Communications Research Analyst
Research and Editorial Associate
Research Coordinator
Research Scientist
Research Specialist
Senior Scientific Services Officer
Social Scientist