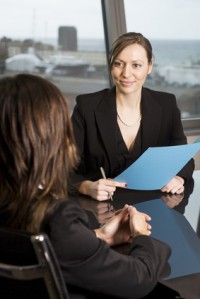 A new study found that attractive women are less likely to be hired if their new employer is female. The research found that when applications contained a picture of an attractive female these women received only 25% of the responses that an application containing a plain picture or no picture acquired.
The researchers believe that because most of the women performing the hiring were in their 20s they subconsciously sought to remove the competition.
Israeli economists, Bradley Ruffle and Ze'ev Shtudiner, were the researchers behind the study and presented their findings at the Royal Economic Society's 2011 annual conference last week.

The study sent over 5,000 resumes to more than 2,500 job openings.
The Telegraph reported:
In each pair, one CV was without a picture while the other almost identical CV contained a picture of either an attractive- looking man or woman or a plain-looking man or woman.

They found that attractive women were called for interview for a position less often than plain-looking women or women who had no picture on their resume.

Women who put no picture on their CV were 22 per cent more likely to receive a response than women with a plain picture and 30 per cent more likely than women with an attractive picture.

They also that 96 per cent of the company recruiters turned out to be women, typically in their 20s and single.
But when the study tested men, they found the opposite occurred. The results for men revealed that attractive males who included a photo with their resume received a 20% response, while those men who included no picture received a 14% response, and those who included a plain picture heard back 9% of the time.
Source: Telegraph