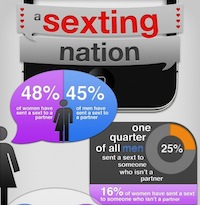 A survey from mobile phone news website Recombu shows that sexting is popular but sometimes complicated. People often mistakenly send sexts to the wrong people, or in some cases, the wrong partner.
Sexting, sending sexually themed pictures or messages by cell phone, is popular with both men and women according to the survey of 2,000 adults. 48 percent of women and 45 percent of men admit that they have sexted, while a quarter of all men and 16 percent of women have accidentally sent a text to the wrong partner.
The survey also showed that about 10 percent of both men and women have given their numbers out to non-partners after flirting. About 1 in 20 women and twice as many men have accidentally sent sexual messages to their partners when the message was meant for someone else.
Recombu also provided some information about how people read and respond to texts. 12 percent of those surveyed said that they find texting easier than face-to-face discussion. Surprisingly, 80 percent of respondents noted that they count and care about the number of "x"s at the end of a sext.
The survey shows some interesting ways that sexting has become a part of relationships and a tool for romantic and sexual communication.