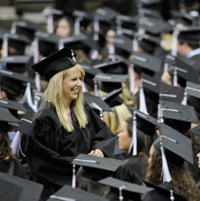 With a communication degree from an accredited, respected university, you'll have access to a tremendous number of job opportunities and internships. However, minors can also play a significant role in your career options (or lack thereof). While minors are optional, they're well worth your consideration. Here are five minors that work well with a communication major.
Spanish
Bilingualism is a major asset in many careers. As Spanish is the second most common language in the United States — 37 million Americans speak Spanish as a primary language according to the United States Census Bureau — a minor in Spanish language studies makes an eye-catching addition to your resume.
If you're especially comfortable with the language, you could potentially land a job with travel opportunities. A Spanish minor is also a great way to get a foot in the door; you might end up doing basic translations at first, but you'll stand a much better chance of finding a position with a larger company if you can communicate effectively with their Spanish-speaking employees and customers.
Journalism
Journalism degrees aren't just for people who want to work in media. Many advertising and marketing firms needs people to write press releases, and journalism training will make you a more viable candidate at these organizations.
Apart from that, most companies need to occasionally get media coverage in order to promote new products and services or to establish themselves as experts in their fields. Communication majors that understand journalism will be able to handle these tasks effectively.
There's also a more obvious advantage: communication majors can often land jobs at newspapers or magazines, especially in smaller cities.
Business
Business degrees are tangible assets in the real world and can greatly enhance the value of your communication major. In most business programs, you learn some accounting, financial management, statistics, and more importantly, you learn how to think analytically.
If you see yourself working at a Fortune 1000 company in a decade or two, business courses can be enormously beneficial. You'll have a significantly better chance of landing valuable internships in the private sector with this minor.
Psychology
As a major, psychology doesn't open up a lot of job opportunities unless you go to graduate school; the Bureau of Labor Statistics notes that psychologists and many counselors need a master's, specialist, or doctoral degree. However, it's an effective choice for a minor. Psychology drives many of the fundamental concepts of communication studies, and students who study both will be primed for advertising, public relations, and marketing work.
It's also a beneficial combination if you're planning on becoming a counselor. However, if you're skewing more towards interpersonal communication and counseling, you might want to consider a psychology major and a communication minor instead.
English
A good command of the English language lends itself to better communication. A communication major/English minor combination can work in your favor if you're looking to jump into growing new media markets. For example, if you've considered social media management (SMM) work, this might give you the tools that you need to excel at your job. If you've ever wanted to be a writer, editor, or media professional, an English minor might make a difference when you start submitting resumes.
You can choose not to pursue a minor, but successfully completing a minor program certainly has tangible benefits when the time comes to look for a job or internships. The right program will optimize your skills for certain subfields in communication. Talk to a professor or a college advisor if you're having trouble making a decision and take your time to choose a program that appeals to you.