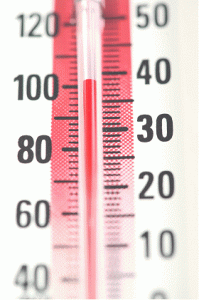 A recent study published in the journal Psychological Science finds beliefs in global warming are influenced by daily local temperatures. The findings reveal that on warm days people have stronger beliefs in global warming and on cold days they have weaker beliefs. The study — conducted by Eric Johnson (Columbia Business School Professor), Ye Li (co-director of the Center for Decision Sciences), and Lisa Zaval (postdoctoral researcher at the Center for Decision Sciences) — suggest why public belief about climate change may fluctuate.
"Global warming is so complex, it appears some people are ready to be persuaded by whether their own day is warmer or cooler than usual, rather than think about whether the entire world is becoming warmer or cooler," said lead author Ye Li. "It is striking that society has spent so much money, time and effort educating people about this issue, yet people are still so easily influenced."

Of the approximately 1,200 people surveyed across the United States and Australia, researchers found that politics, gender, and age all played a role in influencing beliefs in global warming, but that perceived temperature still has nearly two-thirds the persuasive effect of political belief, and six times the power of gender.
This is part of a larger set of research that shows how irrelevant information persuades global warming beliefs.