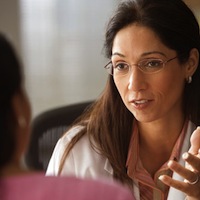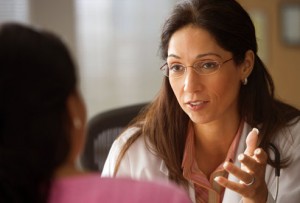 In spite of the strong link between sexual function and a person's overall health, the subject is unlikely to come up in a doctor's office. In fact, according to a new study, a majority of doctors skirt the issue entirely. Of those physicians who do attempt an assessment of their patients' sexual function, most ask superficial questions that shed little light on issues that could signal underlying problems.
For the first time, researchers have conducted a national survey of American obstetrician-gynecologists to determine how they screen for sexual history. The investigators wanted to know how often doctors discuss their patients' sex lives, whether they discuss them deeply enough to make important assessments regarding the patients' overall health and what barriers exist that make it harder for doctors to have these crucial conversations with their patients. The results of the survey, conducted by the University of Chicago, were published in the Journal of Sexual Medicine.
The researchers found that during the course of most examinations, questions about sex usually begin and end with an inquiry as to whether the patient is sexually active. Sixty percent of respondents don't routinely ask patients questions designed to uncover sexual problems or dysfunction. More than two-thirds don't ask their patients if they are satisfied with their sex lives, and roughly the same number fail to routinely inquire about their patients' sexual orientations.
The authors expressed concern over their findings. Sexual function can provide important clues that can help doctors to uncover a number of underlying health problems and to make a more accurate assessment of a patient's general health. They recommend that new guidelines be established for interviewing patients about their sexual history.
Lead author Stacy Tessler Lindau, a professor and practicing obstetrician-gynecologist, says that patients often tell her that she is the first doctor who has ever asked them about their sex lives. She points out that OB-GYNs are in an ideal position to assess female sexual health.
Sexual issues are common among women. Current research indicates that more than a third of women experience some form of sexual dysfunction. Examples include lack of pleasure during sex, lowered desire for sex and pain during intercourse. Often, these issues lead to relationship difficulties, shame, guilt, worry and feelings of being alone. Many patients are unaware that there is any benefit to discussing these issues with their doctors.
According to Lindau, patients may also fear that their concerns will be dismissed or seem inappropriate. She says that some patients will never bring the subject up; for these patients, it is crucial that doctors be the ones to initiate the discussion.
The researchers examined a number of factors to see which ones increase the likelihood that the subject of sex will be swept under the rug. They found that male OB-GYNs are less likely to address the subject of sexual activity. Doctors whose practice focuses largely on prenatal care and delivery are less likely to delve into the possibility of sexual dysfunction in patients. Additionally, doctors over the age of 60 were especially unlikely to ask about sexual orientation or gender identity.
The failure to ask about sexual orientation or gender identity is particularly troublesome, according to the authors. Making the assumption that a patient is heterosexual and embraces a female gender identity can alienate those patients who don't fit these assumptions. Failing to determine sexual orientation and identity can also cause doctors to misinterpret a patient's symptoms and lead to misdiagnosis.
Co-author Janelle Sobecki points to a lack of training regarding the diagnosis and treatment of sexual problems in female patients. Since female sexual problems are often the result of treatment for other conditions, such as breast cancer or depression, it is especially important that doctors uncover and address them. When men are prescribed treatments or procedures that carry a risk of sexual side effects, these effects, as well as possible solutions and ways to cope, are routinely addressed. Women, on the other hand, are frequently not even informed of the possibility of sexual side effects.
The investigators speculate that doctors may be more likely to talk to men about sex because there are treatments available for male sexual dysfunction. Doctors have few solutions to offer women who are dealing with similar issues.
In the end, change may come as a result of patients themselves, who are more informed about sexual health issues than ever before and are increasingly taking a more proactive stance towards dealing with them. According to Lindau, these women are more likely to initiate conversations with their doctors. Lindau applauds these women and suggests that patients bring the topic up at their next appointment. "If you are waiting for the doctor to start the conversation, it may never happen. Communication is key," she says.