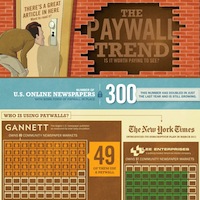 Sales of printed newspapers have been on the decline over the last decade. In attempts to save their companies and earn more revenue, most newspapers have put their content online for free. The model here being to earn money from advertising. But it does not appear this model is saving the industry completely either.
Now, according to the infographic below, over 300 newspapers and counting are putting paywalls in place. Basically, a paywall is a subscription based format where readers pay a monthly or annual fee in exchange for access to the news website's content.
But this has proven to also be unsuccessful for some organizations. Some of the companies that have tried this have lost up to a third of their traffic. What do you think of paywalls? Do you pay for one? Would you?

Infographic By: http://www.bestcollegesonline.org/