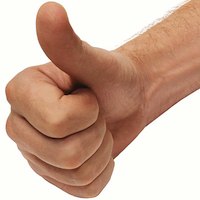 In this age of natural disasters, chronic unemployment, terrorism, public protests and housing foreclosures, one might expect newspapers and social media sites to be flooded with a deluge of negative words. Surprisingly, however, that is not the case. Researchers at the University of Vermont have found that the English language contains a natural positivity, meaning that even in troubled times, people use more happy words than sad ones.

The study, entitled "Positivity of the English Language," examined billions of words collected from Twitter, 50 years of music lyrics, 20 years of the New York Times and nearly six centuries of publications on the Google Books Project. From those sources, researchers singled out the 10,222 most commonly used words and hired a panel of subjects to rate, on a scale from one to nine, the level of emotional happiness each word inspires. "Laughter" received an 8.50, "food" 7.44, "truck" 5.48, "greed" 3.06 and "terrorist" 1.30. Words receiving a rating of 5 were considered neutral.
When researchers then analyzed the top 5,000 words by frequency of use in each of their sources, they discovered that the rate of positivity remained pretty much the same over time. Whether the writer was a country music star, a sixteenth-century poet or an angsty teen complaining about homework on Twitter, happy words dominated the text.
The study comes on the heels of another one by the same group of scientists that showed a two-year decline in global happiness based on the language contained in Twitter updates—a story that drew national attention. The researchers now say that while people's short-term happiness has decreased, the language they use to express their discontent remains fundamentally positive—at the "atomic" level, so to speak. Even news articles about war, corruption and death reveal a "net happiness" inherent in English.
Scientists say this universal "bias of positivity" in language reflects the social nature of humanity. Social contracts often hinge upon one's ability to be pleasant and upbeat. Therefore, it stands to reason that a million years of language development would ingrain more positive words into our vocabulary than negative ones. The study's findings support the Pollyanna Principle of 1969, which theorized that humans naturally use positive words more easily and frequently than negative ones.
The study appears in the January 11 issue of the journal PloS ONE.