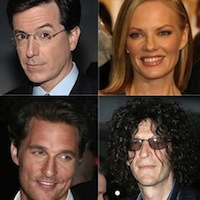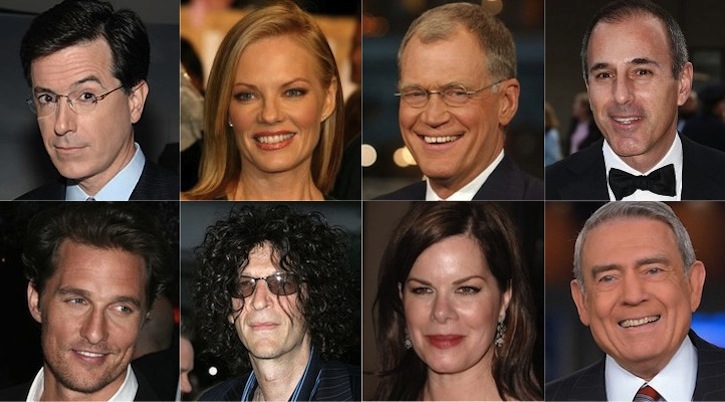 You may be surprised to find that many famous people in the entertainment, sports and political fields have more in common than a photogenic smile and a career spent in the public eye. Many of the people who manage to turn their time in the spotlight into successful careers have degrees in communication. Some of the names on the following list may surprise you, but on second thought, they shouldn't. What better degree is there for a person whose career depends upon communicating effectively with the public?
1. John Quincy Adams served as the sixth president between the years 1825 and 1829. He was also a diplomat, a senator, and member of the House of Representatives. Although he was not popular enough as president to be elected for a second term, he is widely regarded as one of the greatest secretaries of state The United States has ever had. Communication degrees did not exist at the time, but rhetoric was already considered an important skill for those pursuing a secondary education. Adams taught the subject to students at his alma mater, Harvard.
2. David Boreanaz became famous playing the role of Angel in Buffy the Vampire Slayer and the show's spinoff, Angel. Currently, he is cast as an FBI agent on Bones. He is also a producer and director of note. Boreanaz got his communication degree from Ithaca College.
3. Mary Elizabeth "Liz" Sutherland Carpenter, who was often referred to as the funniest woman in politics during her long career, wore many hats. She was a journalist, an author, a popular public speaker, a feminist, a humorist, and a political adviser. She was also a journalism major who graduated from the University of Texas at Austin.
4. Brandi Denise Chastain is a professional soccer player with the California Storm and former midfielder for the U.S. women's national soccer team. She earned her communication degree from Santa Clara University.
[ad2]
5. Constance Yu-Hwa Chung Povich, better known to viewers as simply Connie Chung, has earned the respect of the world of broadcast journalism as an anchor and reporter for virtually every major American news outlet. It all started with a journalism degree from the University of Maryland, College Park.
6. Stephen Tyrone Colbert hosts Comedy Central's political satire, The Colbert Report and is a regular on the network's Daily Show. His communication degree came from the Northwestern University School of Communication.
7. Robert Quinlan Costas, known to fans as Bob Costas, has been a popular sportscaster for three decades. Costas started out as a Communications & Rhetorical Studies major at Syracuse University. Although he never received his degree from Syracuse, once he had established himself as a sportscaster, he was granted an honorary degree in communications from S. I. Newhouse School of Communications.
8. James J. Gandolfini, Jr. brought the character of Tony Soprano, Mafia don, to life. In the process, he received critical acclaim and an Emmy award, as well as three Screen Actors Guild Awards. Gandolfini's BA in communications came from Rutgers University.
9. Richard Andrew "Dick" Gephardt is a career politician who was the Representative from Missouri and became the House Majority Leader, then the House Minority Leader when political tides turned. He pursued the Democratic nomination for president twice. In Gephardt's day, communication degrees were called speech degrees. His came from Northwestern University
10. John Gray is well known as the author of the book "Men Are from Mars, Women Are from Venus." Gray used the book as a springboard for his career as an author, public speaker and relationship counselor. He has written a series of books expanding the ideas found in his first book and founded a training school for counselors who use his principles to work with couples. Gray's Ph.D in communication came from Columbia Pacific University.
11. Marcia Gay Harden, known for playing elegant, composed women on the Broadway stage and on film, is the recipient of an Academy Award as well as a Tony Award. She earned her Master of Fine Arts from New York University's Tisch School of the Arts.
12. Mark Harmon, the actor who became famous playing doctors on St. Elsewhere and Chicago Hope, currently stars as Leroy Jethro Gibbs in military detective series NCIS. He earned his degree in communications from UCLA.
13. Marg Helgenberger won an Academy Award for her portrayal of K.C. Koloski in the television series China Beach. She is also known for her portrayal of Catherine Willows on the groundbreaking crime drama, CSI: Crime Scene Investigation. Helgenberger originally studied to be a nurse but changed her mind, ending up in what is now the School of Communication at Northwestern University, where she received her bachelor's degree.
14. Charlton Heston, who started out in life as John Charles Carter, is famous for playing larger-than-life men who found themselves faced with challenges and faced them with courage. He won an academy award for his portrayal of Ben-Hur. He was also a powerful political activist who took his own courageous stand against racism in the 1950s and 1960s. His training in the field of communications undoubtedly aided Heston in getting his Civil Rights message across to listeners. He earned his degree from the Northwestern University School of Communication.
15. William Motter Inge, Pulitzer prizewinning playwright and novelist known as the "Playwright of the Midwest," got his Bachelor of Arts degree in Speech and Drama from the University of Kansas.
16. Claudia Alta Taylor Johnson, more commonly known as Lady Bird Johnson, former first lady of the United States, used her position to make world a slightly better place. An intellectual and conservationist, Johnson earned bachelor's degrees in both history and journalism from The University of Texas at Austin.
17. Edward James Koppel, known to late-night viewers of the news program Nightline as Ted Koppel, for 25 years, was the recipient of a Master of Arts Degree in Mass Communications Research and Political Science from Stanford University.
18. Brian Lamb, CEO of C-SPAN, put his communication degree from Purdue University to good use, communicating the ins and outs of politics to viewers more effectively than anyone before him had ever done.
19. Gary Larson, the cartoonist who created the quirky humor that infused the cartoon series The Far Side and sold more than 45 million copies of collections of the single single-panel cartoons has a Bachelor of Arts in communications from Washington State University.
20. Matthew Todd Lauer, known to viewers as Matt, is a broadcast journalist and host of The Today Show for more than two decades. He graduated from the School of Media Arts and Studies at Ohio University.
21. Shelton Jackson Lee, who was given the affectionate nickname Spike by his mother, is as well known as a political activist as he is as an Academy Award-nominated director, producer, writer, and actor. Lee earned his Bachelor of Arts in Mass Communication from Morehouse College, then went on to earn a Master of Fine Arts in Film and Television from the Tisch School of the Arts at New York University.
22. David Michael Letterman, the comic host of television's Late Show with David Letterman is also a producer. His communication degree came from Ball State University, where he has established a scholarship for average students such as he claims to have once been.
23.Donovan Jamal McNabb, former Philadelphia Eagles' quarterback earned a number of records during his professional football career. Before he was a professional quarterback, he was a college football player working on a Bachelor's degree in communication from Syracuse University, where he currently serves on the Board of Trustees.
24. Matthew David McConaughey made a name for himself playing likeable leading men in romantic comedies. He earned his communication degree from the College of Communication at the University of Texas at Austin.
25. Nicholas Meyer is a modern-day Renaissance Man. He is a screenwriter, producer and director as well as best-selling author. He was nominated for an Academy Award for the screenplay adaptation of his book "The Seven-Per-Cent Solution," which raised eyebrows by having Sherlock Holmes seek the services of Sigmund Freud to help him overcome an addiction to cocaine in between solving a thorny mystery. He is the recipient of three Saturn Awards. It is no surprise that Meyer's communication degree from the University of Iowa is in theater and filmmaking.
26. Daniel Irvin Rather, Jr., known affectionately to generations of viewers as Dan, was the face of the e CBS Evening News, where he worked as anchor, for most of his career. After he left CBS due to a report during the 2008 presidential campaign that was later proven to be unverified, he went on to complete a number of journalistic projects before retiring for good. He earned his bachelor's degree in journalism at Sam Houston State University.
27. Dave St. Peter, who has been with the Minnesota Twins for decades, became the president of the Major League Baseball team in 2009. Given the fact that his position keeps him squarely in the center of the public's eye, it is no surprise that St. Peter holds a communication degree from the University of North Dakota.
28. Howard Allan Stern is best known as a radio personality, but he is also a television host, as well as a successful author and actor. Stern's radio program has been on the air since 1985, and it continues to be heard all over the country on satellite radio. Although Stern's controversial and outspoken approach led to him being fired early in his career and caught the unwanted attention of the FCC in the mid-2000s, Stern is no intellectual lightweight. He graduated magna cum laude from Boston University. Given his success in virtually every modern form of media, it is not surprising that his degree is in communications.
29. Curtis Edward Warner was a running back for the Seattle Seahawks. A member of the College Football Hall of Fame, Warner was a two-time All-American when he played at Penn State University, where he got his bachelor's degree in speech communication.
Since the time of the Ancient Greeks, communication has been recognized as a crucial part of education. Over the last century, communications studies have evolved from a single course on rhetoric at many colleges and universities to encompass an entire field of study. Schools of communication are proudly numbered among the colleges at many top universities and often offer students not only the opportunity to study theory and learn by doing, but often the chance to conduct research in the field as well. There are few majors as dynamic and relevant to today's world as communication.