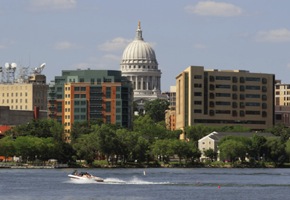 Location: Madison, WI
Website: http://commarts.wisc.edu/
The Department of Communication Arts is located on the UW-Madison campus in Madison, Wisconsin. UW-Madison is a public research university that was founded in 1866. It has a student enrollment of 42,099 on a 933-acre urban campus. It is known as a "Public Ivy," which is a designation for a public school that offers an education that is on par with that provided by Ivy League schools.
Communication plays an indispensable role in virtually all aspects of modern life, including relationships, social behavior, health, government, education, business, entertainment and the law. UW-Madison recognized the importance of communication early in its history and created one of the first communication programs in the United States. The university has remained on the forefront of communication research and education by taking the lead in the development of communication as an academic discipline.
UW-Madison communication graduates go on to careers in media, law, sales, counseling, public relations, marketing, advertising, corporate communications and education. Students who successfully complete the department's graduate program go on to become researchers and professors.
The undergraduate program has two main areas of focus: Communication Science and Rhetorical Studies and Radio, Television and Film.
Communication Science and Rhetorical Studies focuses on understanding communication and human interaction. All of the areas of study that are traditionally covered in a communication program are included in the UW-Madison program. However, the program places special emphasis on scientific methods and critical analysis.
Radio, Television and Film focuses on the study of all academic aspects of radio, television and film, from theory to production practices. Creative and scholarly expression are cultivated, but critical analysis is also emphasized.
The Department of Communication Arts at UW-Madison has a proud history as a world leader in the area of communication research. The department offered the first PhD in communication in the United States, and the focus remains on educating researchers. Alumni of the university can be found in university faculties and research institutions across the world. The four areas of graduate study are Communication Science, Film, Media and Cultural Studies, and Rhetoric, Politics, and Culture. Teaching assistantships are offered to most graduate students, and fellowships, awards and research support are also available. Terminal MAs are occasionally awarded, but the graduate program is geared towards producing PhDs.
In 2007, the Center for Measuring University Performance ranked UW-Madison 11th in the nation, along with two other universities who tied for the spot. QS World University Rankings named it 41st in the world in 2011, and Shanghai Jiao Tong University's 2010 Academic Ranking of World Universities ranked it 17th in the world and 15th in the Americas.
The school's 25 intercollegiate teams are called the Wisconsin Badgers. The student body's reputation for progressive politics is a slight contrast to the campus itself, which sports no less than four National Historic Landmarks. Playboy ranked UW-Madison the third biggest party school in 2010, although the Princeton Review brought it in at number 12. The school is known for academics as well as political activism and drinking, however; among them, alumni, faculty or former faculty can claim 19 Nobel Prizes and 34 Pulitzer Prizes.