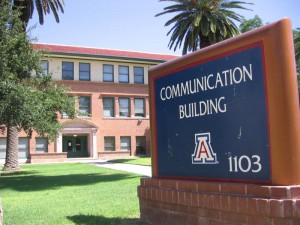 Location: Tucson, AZ
Website: http://comm.arizona.edu/
The University of Arizona has a highly ranked department of communication that offers Bachelor of Arts, Master of Fine Arts, and Doctor of Philosophy degrees. The communications department at AU has been named the best in the United States in research productivity by Academic Analysis. For years, the PhD program has been considered one of the very best in the United States. Historically, AU's graduate students have had the opportunity to pay for their education through teaching assistantships.
The Department of Communication views communication as the examination of human message systems and has four main areas of special focus. They are interpersonal communication, mass communication, health communication and social influence. Like all of AU's departments, the Department of Communication is a true research institution. The well-equipped Communication Research Laboratories, the pride of the department, allow students the valuable opportunity to engage in vital research projects under the guidance of department faculty.
[ad2]
The University of Arizona's Department of Communication is located on UA's historic Old Main Street on the main campus in Tucson, Arizona. It is housed in the university's old Science Building, which opened in 1909 and was the largest building built on the campus up to that point. The two-story, 45-room building featured chemistry and physics laboratories that were state-of-the-art for the time period and inspired awe in students of the 18-year-old university. Although the building's labs were converted into classrooms during the first half of the 20th century, the historic building located in the oldest part of the campus remains at the hub of campus life.
Today, nearly 38,000 students fill the campus, which is now 103 years old. The university now boasts 179 buildings spread out over 380 acres and is located about a mile from Tucson's downtown area. Sports play an important role in campus life at AU, and the school team, the Wildcats, has earned a very respectable place in the sports history books. AU is a serious research institution, but it is by no means a dry, musty institution; AU was named the fifth best party school in the United State in the May 2009 issue of Playboy.