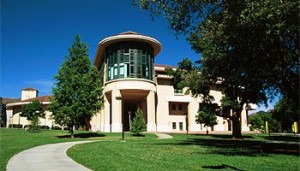 Location: San Luis Obispo, CA
Website: http://www.calpoly.edu/~spc/
As far back as 1903, when it first opened its doors, California Polytechnic State University has emphasized the importance of communication studies. As communication studies became more and more important in the modern world and became a program of its own, the school stepped up to the challenge and adapted itself to the times. Today, students in the Communication Studies Department at Cal Poly, as the school is affectionately known, can earn one of the more than 200 minors and majors the department offers.
Cal Poly has a student population of 19,000. It is located in San Luis Obispo, California, and boasts not only a suburban campus but also the Swanton Pacific Ranch, a functioning 3,200 acre ranch that serves as both laboratory and classroom for the College of Agriculture, Food and Environmental Sciences. The ranch may not be home to the Communication Studies Department, but it embodies the same guiding principle that is at the heart of the communication department's philosophy: Hands-on learning. Indeed, Cal Poly's motto is Discere Faciendo, which is Latin for "learn by doing."
[ad2]
Unlike some modern universities, which attempt to recreate communication from the ground up as an entirely modern discipline, Cal Poly recognizes that communication studies has its roots in the Athenian academies of the ancient Greeks. The Athenians recognized the great power of communication and built their entire academic curriculum around it. Communication did not lie dormant during the intervening years, however, and Cal Poly's program recognizes that entrants into the modern field of communication benefit from education that provides training in communication theory as well as practice in the many contexts in which effective communication is so crucial today.
Cal Poly's Communication Studies Department offers a Bachelor of Arts degree that students can use as the basis for graduate work elsewhere or as the springboard to launch themselves directly into a career. The department also offers a minor to enhance and augment other majors. Cal Poly does not offer graduate degrees in communication.