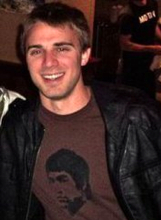 CommunicationStudies.com was started by Chase Fleming as a resource for himself and fellow Communication Studies majors at Cal Poly University, located in San Luis Obispo, CA. But, the site quickly grew into much more. After positive feedback from others in the field and universities, the site began expanding.
New content is being added daily and many other valuable resources will be coming in the near future. Any links to the site are greatly appreciated.
The goal of the site is to spread knowledge and information on Communication Studies.
Chase Fleming graduated Cal Poly University in 2011 with his degree in Communication Studies, but has found his full-time hobby to be promoting education on the web. In addition to CommunicationStudies.com, he also co-founded Virtual Professors (an educational site) and Content Row (a site which lets authors earn money writing about what they love).
---
Follow
Chase on Twitter